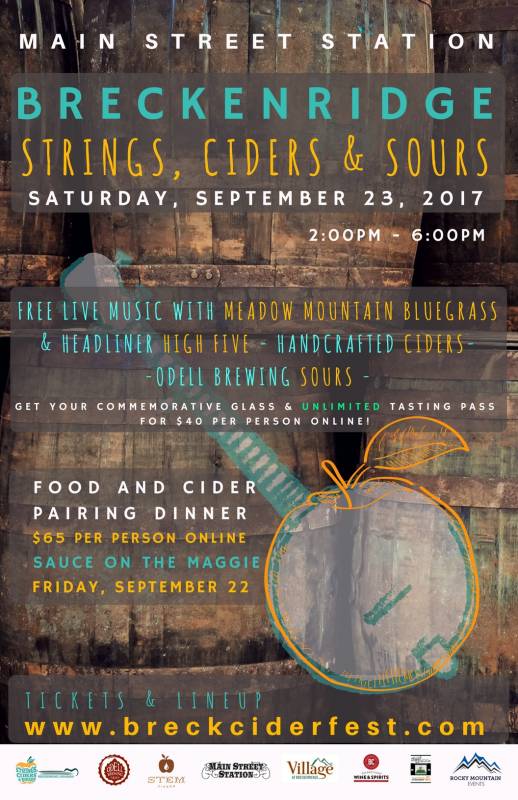 Strings, Ciders & Sours
Cider is becoming the most loved beverage in the universe and the route to all things magnificent.  We aren't missing a beat!  Add quintessential American Bluegrass, delicious food pairings, a Sours Garden and gorgeous views;  you have an irresistible recipe for magic.  These indulgences come together for Breckenridge Strings, Ciders & Sours on Saturday, September 23rd, 2017.
Cider and wild ale lovers will be able to taste their way through a spectrum of samples while enjoying live music and mixology below Peak Nine.
Guests will receive a commemorative tasting glass, access to entertainment and festival activities, and a chance to taste their way through an assortment of ciders and sours flavors.  We know that you will be hooked, and will keep coming back for more.  Oh goodness.  Is it September 23rd yet?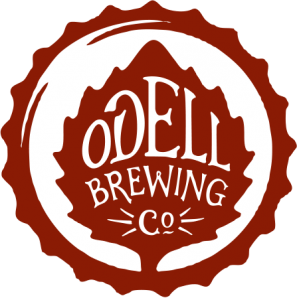 Live Music
Meadow Mountain Bluegrass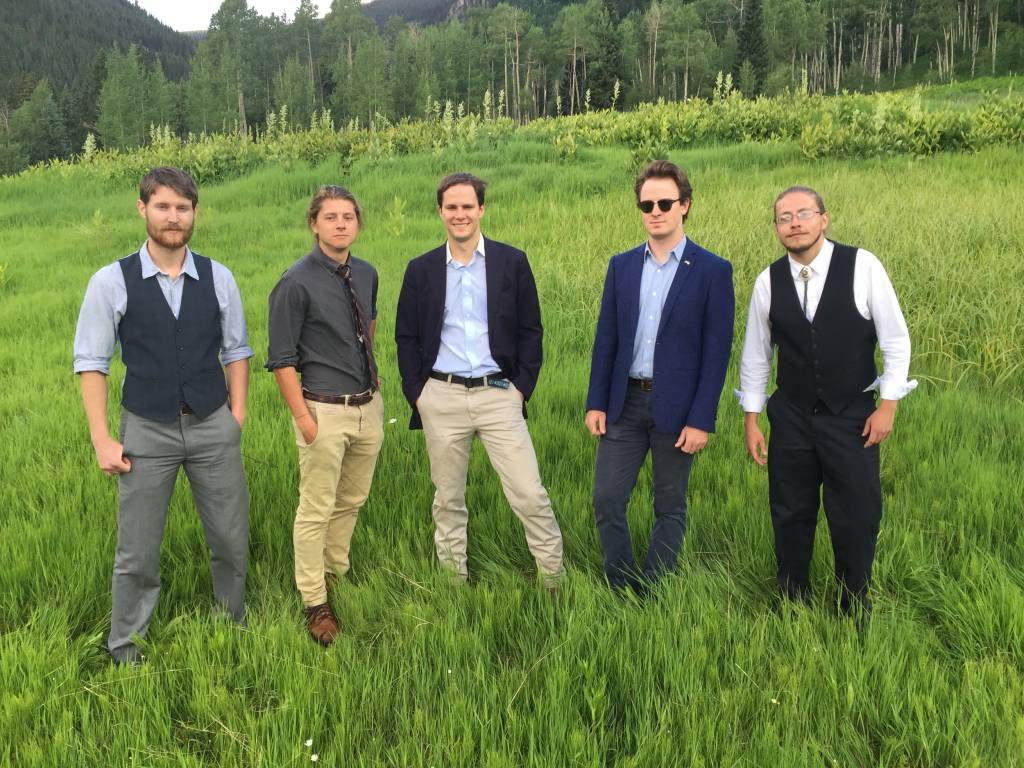 Winners of the 2017 Rockygrass Band Competition!  Meadow Mountain is on the forefront of a musical movement in Colorado. It is a movement born from a desire to understand one's roots – to understand why one makes the music that they make. This band is comprised of 5 best friends, who, with their feet placed firmly on Rocky Mountain soil, look attentively towards the Blue Ridge Mountains and the rich tradition of Bluegrass music there. They explore traditions of Swedish fiddle music, Acoustic Jazz, Old-time, and Classical, and their original music is steeped in heartbreak and mountain breezes.
You will hear intricately arranged, soaring instrumentals. You will hear hard-driving, traditional Bluegrass music. Most importantly, however, you will hear five best friends play a music that is much larger than the sum of its parts.
High Five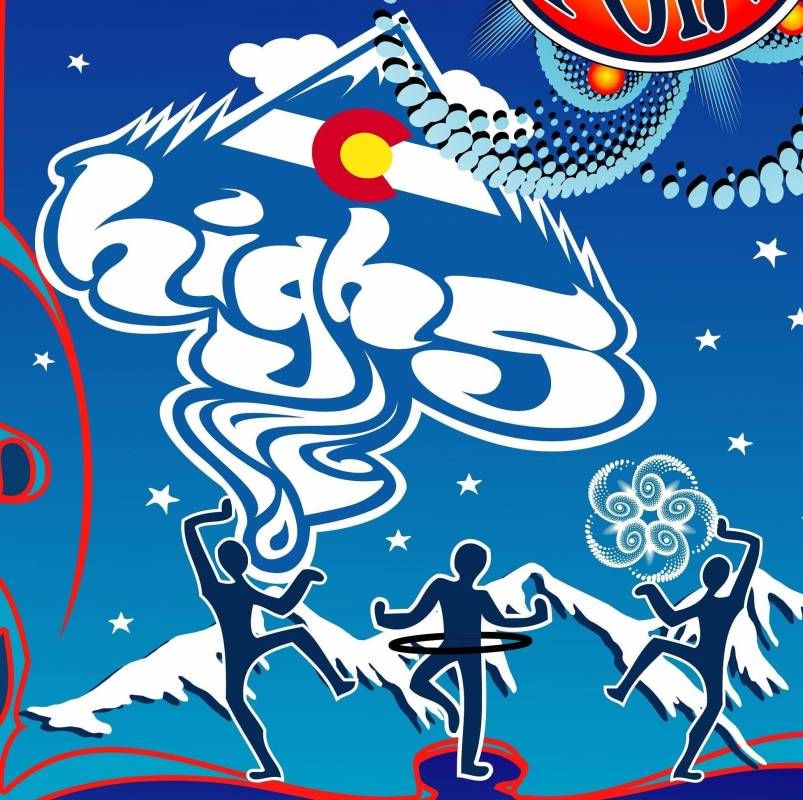 Somewhere in between the majestic altitude of Colorado's highest peaks and the jubilation of homegrown music, the High 5 has found a synergy that transmutes what may first appear like a traditional, jammin' performance, into a sensory-heightened experience. The four-piece ensemble co-creates new harmonic atmospheres every time the stage beckons. It's not just another "jam band."
The High 5 emits prime-form family vibes. Each experience is inspired and musically different from every other show. However, if there's one thing that never changes, it's the general feeling of "good times with good friends" that constantly persists throughout every High 5 show. The players come from a wide variety of musical backgrounds, which makes for a fresh, well-traveled sound. The influences of bluegrass, reggae, folk, Americana, jam, trance, Afro-Cuban and good old rock and roll combine among the group of artists and are amplified into a full room of sonic wealth.
Sample more than thirty selections from the following breweries and cideries!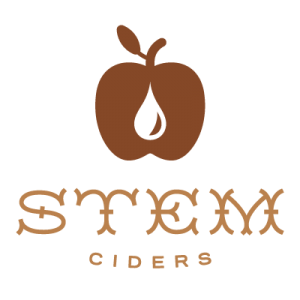 Cider & Food Pairing Dinner
Featuring Stem Ciders and Odell Brewing
Sauce on the Maggie – The Village at Breckenridge
Friday, September 22
Doors open at 6:30pm with dinner at 7:30pm
Menu:
Reisling Braised Duroc Pork Belly, Apple Slaw,  Lemon Vinaigrette
Free-Range Colorado Chicken Breast, Apple Cider Glazed, Wild Arugula
Walnut Encrusted Pork Loin, Apricot Barley Risotto, Cabernet Demi Glace
Caramel Apple Cobbler, Salted Caramel Gelato, Vanilla Bourbon Whipped Cream
Featured Ciders and Sour
Stem Ciders Crabby Neighbor – Gluten Free
Made from Crab Apples and Granny Smiths, fermented slow and aged to soften up.  Very tart with enough crab apple tannin to linger on the palate.
Stem Ciders L'Acier – Gluten Free
Smoke, caramel, and vanilla with clean fruit on the nose.  Dry to appreciate the tannins. 
Stem Ciders Off-Dry – Gluten Free
Off-dry is actually not so dry.  Distinct apple aroma, juicy and clean with a balanced acidity.  
Stem Ciders Raspberry – Gluten Free
Tartness from the raspberries and apples meld in this dry, refreshing cider.  A light tannin structure from the raspberries lingers on the palate.
Odell Brewing Pyrus & Prunus
An oak aged sour golden ale brewed with heavy additions of pear and peach puree resulting in a full-bodied, pleasantly effervescent, refreshingly tart ale. The two fruits work in harmony, as aromas of peach pie and fresh pear swirl from the glass. The tart complexity of the sour golden marries with ripe fruit flavors that burst forth with every sip.